Power Through a Possible Recession With Growth Stocks
Lately, the stock market has been getting crushed. It's clear that we're in the middle of a bear market. And it seems likely that the U.S. will see a recession within the next 12 months. That's if it's not there already.
That may sound scary. But it shouldn't be.
Recessionary periods and bear markets create once-in-a-decade buying opportunities in the stock market.
In other words, recession risks are rising, and the broader markets are highly volatile. But we're growing very bullish on a particular group of stocks right now.
Historically, crises have created opportunities. This time is no different. And the opportunities we're seeing right now are potentially life-changing.
So, don't freak out. Don't run for cover…
The best thing to do during bear markets and crashes is to hunker down in stocks that will soar once the downturn passes.
Watch the Yield Curve in Bear Markets
There's some spooky data out there that implies that a big economic slowdown — or worse — has arrived.
Perhaps the most important of these data points is the spread between the 2- and 10-year Treasury yields. It's been shrinking rapidly over the past few months. And this past Monday, June 13, the yield curve briefly inverted minus 2 basis points before normalizing.
Recall that a flattening yield curve is the bond market saying that an economic slowdown is coming. And a yield curve inversion has preceded every economic recession since 1980.
Since March, we've seen a rapid flattening of the yield curve to below 30 basis points. That's a bearish dynamic that's happened only six times since 1982.
Four of those six occurrences were followed by a yield curve inversion within 12 months. And those inversions subsequently spilled into recessions. Two of those six occurrences were not followed by a yield curve inversion (August 1984 and December 1994). Both of those times, an inversion was averted by the Fed cutting rates.
Well, in March, we did see a yield curve inversion. And even still, the central bank has been quite hawkish.
To get a handle on runaway inflation, the Federal Reserve is hiking rates. And such an unprecedented action is expected to happen alongside a war in Europe and a slowing labor market. That's not a bullish setup.
The Fed had its June meeting on Wednesday of this week. The central bank hiked rates by 75 basis points and signaled for another potential 75-bps hike in July. This is a Fed that will hike more now to hike less later. And it expects the next few big lifts to successfully stomp out inflation.
In other words, we finally have visibility to inflation falling to normal levels. But it will take a lot of rate hikes and some significant economic cooling to get there. And to be frank, a recession is now likely the base case.
Sounds scary but it's not.
How Much Farther Will Stocks Fall?
In the early 1980s, a U.S. economic recession led to just a 15% drawdown in stocks. The early 1990s recession similarly led to just an 18% drawdown.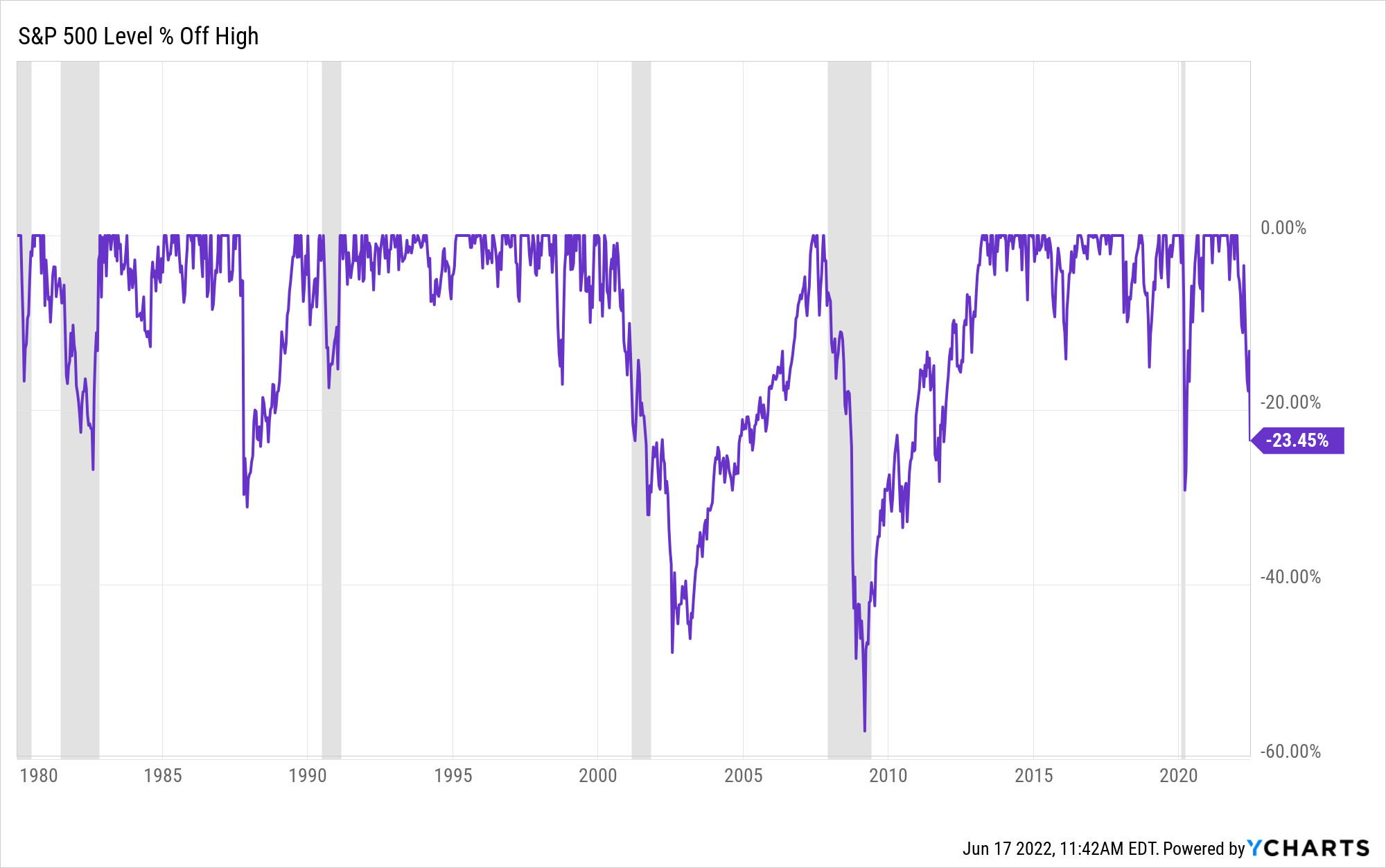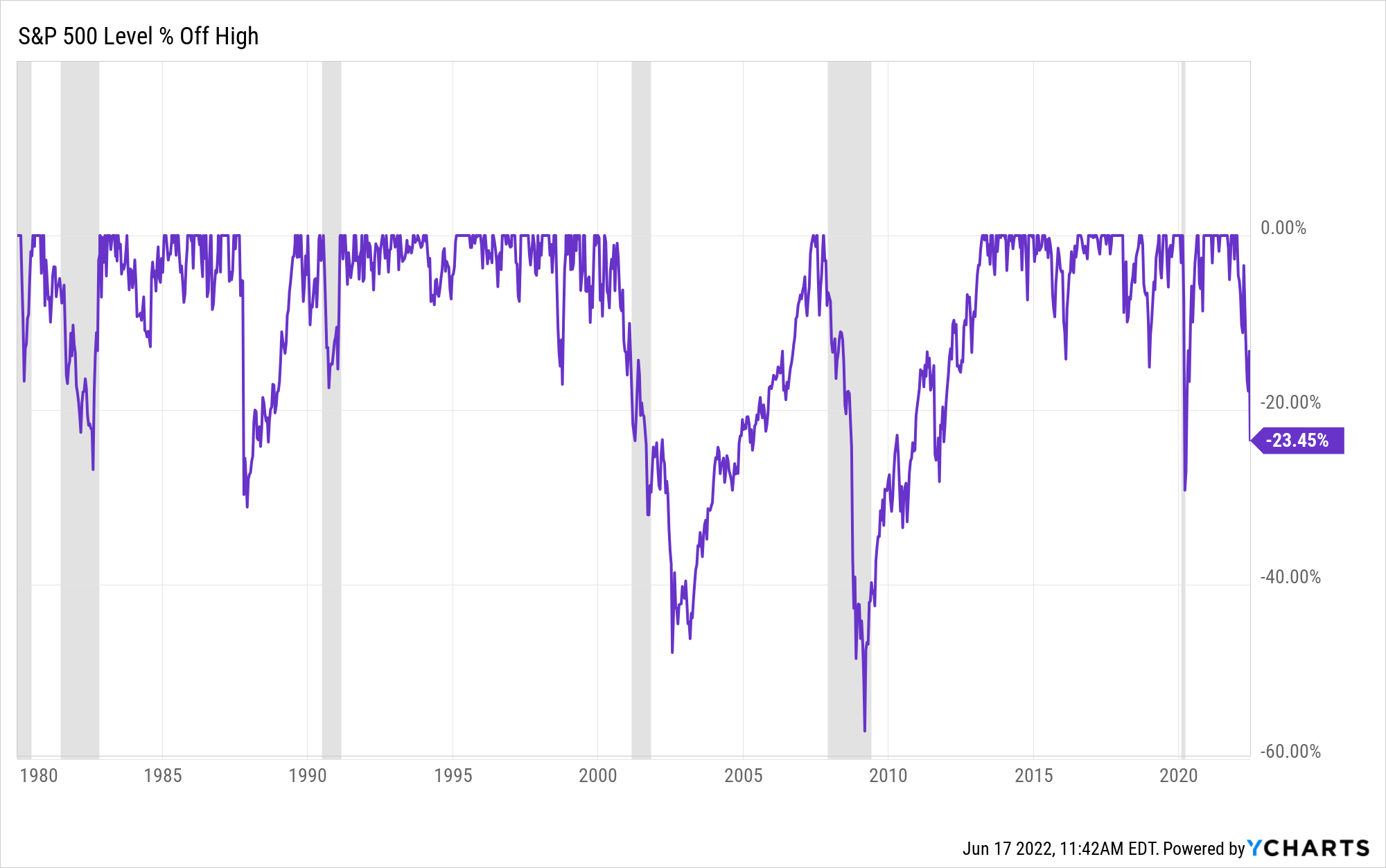 Sure, the early 2000s recessions resulted in a 40% stock market collapse, while the 2008 recession sunk stocks by 50%.
But this is not that.
In 2000, we suffered from gross overvaluation. The S&P 500 was trading at 26X forward earnings, with a 10-Year Treasury yield above 5%. Today the market is trading at 22X forward earnings, with a 10-Year yield below 3.4%. Today's valuation is lower both in absolute and relative terms compared to what we saw in 2000.
Meanwhile, in 2008, the entire U.S. financial system was on the verge of collapse. We don't have that today. Balance sheets across banks, corporations, and households are cash-heavy and very strong. Interest rates are still relatively low. We do not have another 2008 on the horizon.
So, in the grand scheme of things, we face what will likely be a shallow recession. It's likely to follow those of the early 1980s and early 1990s, when stocks dropped around 20- to 30%.
Buying the Dip During a Bear Market
Over the past few months, we've seen some sharp drops in stocks. And in such an unpredictable climate, it's far too early to call a bottom in the markets. But we believe that hypergrowth stocks are very close to one. And now may be the time to start buying the dip.
Because weaker consumer confidence leads to less spending. Less spending leads to lower inflation on the demand side. This could very well be what the Federal Reserve is hoping for. That is, as the specter of higher rates takes down all assets (crypto, equities, housing), consumer spending is curtailed. And demand hits a slowdown. And this is coinciding with the normalization of global supply chains. Supply spikes, and demand takes a dive.
That's bullish for a slowdown in inflation.
However, consumer credit numbers are hitting new highs, which could signal they're still spending by maxing out their credit cards. After all, folks still need food, housing and transportation. So, spending can only be curbed by so much.
So proceed with caution. If you buy the dip, make sure to only invest what you can afford to lose. Take a nibble here and there by cost-averaging down into your positions. If growth stocks do have further to fall, the drops will be swift. By cost-averaging, you can limit your downside while allowing for further upside when the market rallies again. Don't buy the dip all at once.
Growth Stocks Win Once the Crash Passes
At the top of this note, we wrote that we're very bullish on a certain group of stocks at the current moment. That group is hypergrowth tech stocks.
I know. That may sound counterintuitive. But follow me here…
In our flagship investment research product Early Stage Investor,  we invest in stocks for the long-haul. We've identified a particular group of stocks that have been unnecessarily battered despite sporting rising earnings and revenues. And these stocks have a very good chance of snapping back to all-time highs.
See the chart below, which illustrates the strong positive correlation between S&P 500 price and sales. Numerically, this is a positive correlation of 0.88, or nearly perfectly correlated. You don't get much more closely correlated than that in the real world.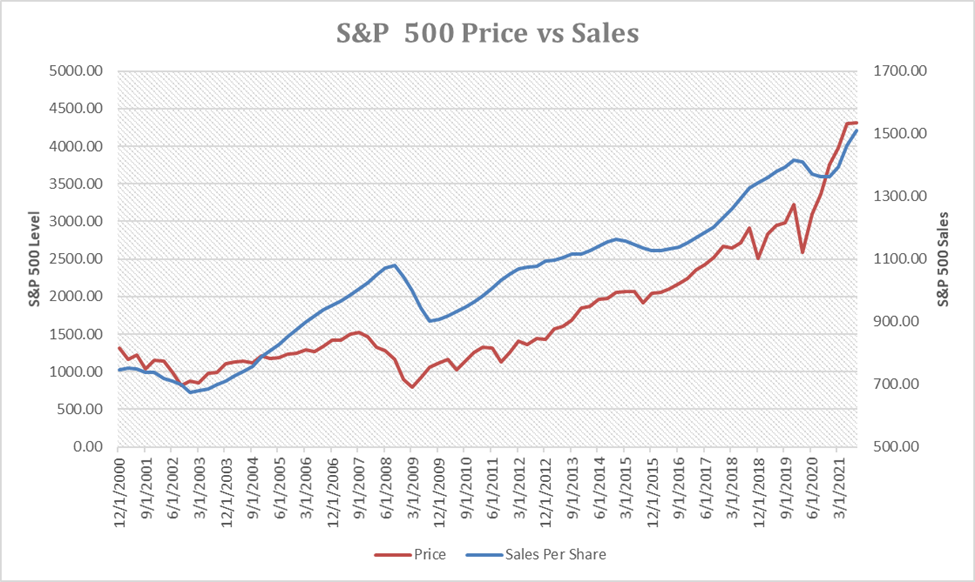 Regardless of a recession, solid growth companies will continue to grow their revenues and earnings at a very healthy rate over the next several years.
In other words, their "blue lines" from the above chart will continue to move up and to the right. Eventually, their "red lines" — or their stock prices — will follow suit.
That's why we're very bullish on growth stocks today.
Their blue lines (revenues) continue to go higher and higher, while their red lines (stock prices) are dropping sharply. This is an irrational divergence that emerges about once a decade during times of economic crisis. And it always resolves in a rapid convergence, wherein the stock prices rally to catch the revenues.
Bear Market Opportunity in Growth Stocks
Despite the present market climate, now is not the time to freak out.
Remember: Crises create opportunities. In stocks, this has been the case forever. This time is not different.
And, in the current crisis, the opportunity is particularly large in growth stocks. We fully believe that once this bear market ends — and it will — certain growth stocks will rattle off 100%, 200%, and even 300%-plus gains.
The investment implication? It's time to hunker down in the right growth stocks.
Published First on InvestorPlace. Read Here.
Image Credit: by Ketut Subiyanto; Pexels; Thank you!
The Future of Calendars: Predictions and Trends
We live in a world where online calendars are a part of our daily lives. No matter how diligently you use an online calendar, you're still benefiting from it. For instance, you might be reminded to send a birthday card online, schedule events or business meetings, or block out your day.
It is important to realize that online calendars are still a relatively new productivity tool that is rapidly developing. As a matter of fact, your online calendar is becoming more of a personal assistant that will advise you on how to spend your time best. But, there is so much more than calendars are capable of in the future, such as the following predictions and trends.
Solving scheduling problems.
"So far, it looks like the reinvention of the calendar will happen in two phases," notes David Pierce for Protocol. "First, users will get access to a new set of tools, integrated with Google and Outlook calendars but opening up lots of new features."
After that, calendars will be turned into a standalone service if they prove successful. In the same way, Slack is to email, Zoom is to a desk phone, and Airtable is to Excel, all these companies hope to be to your Outlook calendar, he adds. "Time is money, all these calendar companies will argue to investors and customers, and we'll save you both."
"We're only at the beginning of the first phase, though, and still attacking the first problem worth solving: scheduling. How about one solution? It's as simple as speeding up the process.
Superhuman, for example, scans emails for dates like "next Friday" and lets users send invitations accordingly. Scheduling is, in essence, an email problem. As a result, it should be available as an email solution as well. In a similar vein, Vimcal, often referred to as "Superhuman for calendars," is a new app that focuses on speed, and CEO John Li said most people want meeting creation to happen lightning fast.
Calendar is another option if you want to speed up the scheduling process. The Find a Time feature in Calendar allows you to schedule with others quickly. Using multiple calendar users, create events based on their availability and see when they are busy.
Chatbots will be able to organize your meetings.
Professional life has become quite complicated following the pandemic. For example, working remotely from home isn't as straightforward as it seems. Many of us find it hard to keep up with the increasing demands on our time.
At the same time, the number of American employees working remotely is expected to increase to 36.2 million by 2025. So, we're going to have to get used to these new working conditions. Thankfully, technology can save the day.
The majority of the time, work involves scheduling meetings and being on time. In order to make your life easier, you can use a chatbot to help you set up meetings. Chatbots can still be useful as an additional meeting planning tool, such as SharePoint calendars.
You can also schedule meetings using Messagely or TARS. It is also beneficial to manage teams remotely and track their time by using a time tracker. It is possible to balance work and life with the help of these chatbots.
Chatbots and software powered by artificial intelligence also show great promise for helping businesses become more productive and profitable. For example, a phone validator app checks the validity, type of line, network carrier, location, etc., of the line to improve productivity.
These chatbots can handle scheduling and organizing meetings while you focus on other important tasks.
Calendars will become even more intelligent.
Smart calendars or intelligent calendars collect every schedule or action to boost productivity and simplify management using intelligence or automation. Using an intelligent calendar will help you establish boundaries between your personal and professional life.
As well as blocking time, you can reduce the time spent on certain tasks manually. Your ideal workweek can be automatically scheduled and managed using a smart calendar. Besides scheduling tasks, you can use an intelligent calendar to increase efficiency and reduce human dependency.
It goes without saying that an intelligent calendar can enhance productivity and save you time. In an effort to streamline meetings, increase event aggregation, and reduce time wastage, intelligent calendars have become a necessity due to the following:
Notes can be jotted down in the calendar to help keep track of important information and deadlines.
It is possible to get information from smart notes that will help you determine what actions to take.
Organizes all your meeting invitations
From the app, you can get relevant information about the weather, traffic, and drive times.
With Motion, for example, you can always know what to do next. It creates a day-by-day schedule based on meetings, giving you a minute-by-minute overview. Trevor AI is another AI calendar app that helps you organize your day by keeping track of your lists of tasks to do; this AI calendar app puts one task at a time so that you work more efficiently.
Furthermore, Calendar can provide smart suggestions on when, where, and who to invite when scheduling meetings. It's not magic. With artificial intelligence and machine learning, Calendar can create a unique scheduling experience for you.
Finally, intelligent calendars can help you become less distracted and more productive.
If you block out 8:30 a.m. to 11:30 a.m. in your calendar for undisturbed work, quiet time is from 8:30 am to 11:30 am. Your calendar will automatically block out this time instead of creating a recurring event.
During this time, you may find your calendar automatically disables distractions like email and social media notifications. It's possible that your calendar will determine when you're most productive as well. As such, if you fade out every 50 minutes, you'll be reminded to stretch and take a break.
And, that's just scratching the surface. Considering that the size of the global artificial intelligence market was $136.55 billion in 2022 and is projected to increase by 37.3% from 2023 to 2030, calendars will continue to become more and more intelligent.
The AR calendar will bring your calendar to life.
It's true that some companies have been using augmented reality (AR) to make plain old paper calendars more interactive for the past several years.
As an example, once you download an app, you just need to point your phone at a calendar image and tap the screen. Using AR, Tengo Interactive created an airport calendar that provided users with a behind-the-scenes view. Other companies have created wall calendars that utilize augmented reality to explain their entire product range.
By 2028, the AR market is expected to reach $97.76 billion. Due to this, augmented reality calendars and marketing opportunities will continue to expand rapidly.
By using this technology, you will be able to walk through a property in virtual reality. From there, you might be able to make an appointment with the realtor if you like what you see.
If you are planning a trip to the Grand Canyon, you could experience the destination before booking the trip. Or, you could view local restaurants, salons, or museums. You then have the option to make reservations or book tickets and have them automatically added to your calendar.
Use ChatGPT prompts to manage your time.
On November 30, 2022, ChatGPT was launched, which quickly sent the internet into a frenzy. Just one week after it was launched, OpenAI's chatbot reached 1 million users. It also gained 57 million users in its first month and is supported by Microsoft's $10 billion investment in Open AI.
Still not impressed? After two months of launch, ChatGPT reached 100 million monthly active users, making it the world's fastest-growing consumer app. And some people have even dubbed it "the best AI chatbot ever released to the general public."
As a result, it would be remiss of us not to mention ChatGPT. Furthermore, the app deserves its own section due to its popularity.
But, what link is there between ChatGPT and calendars?
In particular, Chat GPT can help you locate open times on your calendar for dental appointments or team meetings. In order to fix this problem, you might write a prompt telling it what your schedule looks like for the week and ask for a reorganization.
As well as scheduling meetings and appointments, ChatGPT can keep track of deadlines and deliverables for event managers. ChatGPT's natural language processing feature enables event managers to input their requirements and view their schedules on a calendar.
Some of your chores will be taken care of by your calendar.
"Online calendars aren't merely more useful than their paper peers," writes Howie Jones in a previous Calendar post. "Today's top calendar apps can recognize and prevent double-bookings." Others can adjust meetings across time zones.
But, over the next decade or so, how much more will online calendars be capable of?
"While I wouldn't hold out for magically tackling your chores for you, there are many more online calendars will be able to do by 2030," Howie adds. You may see the following upgrades:
Book travel.
As your calendar continues to evolve, your reservations will be made for you. How? Several popular online calendar apps will integrate airlines and hotel services. From the same app, you can decide when and where you want to go.
Scan and plan.
Let's say that you walk past a flyer or a billboard advertising a local event. Rather than scanning down the information, why not let your calendar app copy it down for you?
Suggest nearby events.
You can use your mobile device's location tools to find out where you are. Your calendar app will then show you all events within a specified radius when you choose the day and hour. As long as it knows your preferences, it won't suggest a roller coaster park if you hate them.
Tend to your home.
Google Home and Alexa will soon be able to connect with your online calendar, so you can schedule actions for each device connected to your smart home network.
Maintain your vehicle.
Changing your car's oil and rotating its tires should be done every few thousand miles. Using your calendar app, you can keep track of your mechanic visits and schedule future appointments. With the help of an app like Google Maps, it will alert you when you have reached your mileage threshold. The app will suggest a highly-rated mechanic if your current mechanic is unsatisfactory.
Published First on Calendar. Read Here.
Featured Image Credit: Photo by Samson Katt; Pexels; Thank you!
Top 10 Software Development Companies In Chicago 2023
Finding top software development companies in Chicago is never an easy choice. Chicago is a significant technology hub, and there are thousands of companies that have offices in this region. This makes choosing your partner difficult. But not from now. If you stick through the end of this article, you'll know the software development companies you should approach whenever you need any services.
List of top 10 Software Development Companies in Chicago For 2023
eSparkBiz is a software development company with multiple decades of experience in serving international and local clients. The company has multiple offices around the globe and offers hiring models that are suitable for customers of all sizes.
It offers services like digital transformation, software development, web app development, mobile app development, AI/ML, Data Science, In-depth Analytics, IoT, and Blockchain development. This company is a one-stop solution for all your software needs, and you'll get the best solutions from their experienced staff.
eSparkBiz also provides end-to-end product development and maintenance for startups. So, if you've got a great idea, give them a ring and get it transformed into a business with their expertise.
Forte Group is a large software development company from Chicago with 22 years of industry experience. The company has more than 900 software professionals working on different projects and technologies for their global clients.
The company provides product management, QA, Ecommerce Strategy, and enterprise software engineering services. Forte provides end-to-end product development and maintenance for customers around the world from its ten global office locations.
Highland is another company on this list with multiple decades of experience. It assists organizations in developing, designing, scaling, and customizing digital goods, experiences, and companies that benefit others. It has an extensive portfolio of projects, and till now, it has helped its clients launch over 350+ ground-breaking products.
The company provides innovative business solutions and helps companies with digital transformation and innovation needs.
Launchpad lab is a team of digital product specialists who collaborate with you to change your company by using the relevant services, talents, and technology. The company provides a wide variety of services like web app development, mobile app development, UI/UX design, product strategy, and salesforce development.
If you want to work with the best and most futuristic technologies, the team at Launchpad lab will surely help you. Moreover, the company has already built and maintained futuristic solutions since 2012 for companies around the globe.
Vault innovation is a custom software development company that provides end-to-end software engineering services. It has helped numerous business owners launch their exciting digital products and leave competitors in the dust.
The company provides various development services like Technical architecture, Backend Development, Frontend development, QA testing, and project management too.
Vault innovation also provides flexible hiring models that help you leverage the best while keeping costs in control. Whether you are looking to build an entirely new product or enhance an existing product, Vault innovation has the skilled developers to turn your requests into features.
Neologic was founded in 2008, and since then, it has provided multiple software development and engineering services to global clients. Its services include process consultation, product management, and software support and maintenance over and above the core development services.
It follows a three-step process for software development and helps clients globally. Neologic consultants start with deep research on your problems and understand the core needs. After that, they design the end-to-end solutions and chart out the plans, and begin developing software that helps your business.
Plego technologies is a software consulting company with multiple offices around the globe. It provides services like web development, eCommerce store development, AI/ML products, and many more things.
Plego has been in the software development business since 2002, and by now, it has worked with large corporations like Berkshire Hathaway, Apple, Samsung, Intel, etc.
The company offers multiple hiring models, so you can choose the one that provides maximum efficiency for your investments, and you can always change the hiring models as you advance.
Atomic Object is a custom software development and consulting company for all your technical needs. It provides services like web development, mobile development, IoT software, Desktop applications, and Cloud migration too.
The company works with the latest technologies like Android, Swift, Azure, React, AWS, NodeJS, and many others as and when its clients require it.
Caxy Interactive is one of the oldest and top software development companies in Chicago. It was established in 1999 and has been based in Chicago since then. The company provides services like web development, analytics, and design for global customers.
SimForm is a unique digital engineering and solutions provider. The company provides services in four main sections such as product engineering, cloud, and DevOps engineering, Data engineering, and Quality engineering.
If you want to build exceptional products with an extensive team, SimForm is the way to go. It provides project management, design, development, performance testing, and app management services. SimForm started in 2010, and by now, it has helped clients of various levels right including startups, public companies, Fortune 500 companies, WHO, and NGOs too.
Conclusion
Whether you are looking for an experienced and reliable solution provider or you are looking for an innovative and experimental software development company, you have all the best options in this list. So clear your requirements, and head to any of these software development companies in Chicago to build the best technological products for your needs.
Featured Image Credit: Provided by the Author; Thank you!
Best Moz Alternatives of 2023
Every entrepreneur and small business owner needs to get SEO right if they want to be competitive in both the online and local markets in which they operate.
Making sure your website gets seen by the right people—your prospects—at the right time—when they're ready to buy—is just the first-level challenge. You also need to make sure your site is optimized for local search traffic and ranking well organically to prospects who are in an earlier stage of the buyer's journey.
To solve those business website challenges, many owners and entrepreneurs turn to reputable online SEO tools. For many years, Moz has been considered to be at the top of that list.
Moz and What It Can Do for Entrepreneurs
Moz Pro is a suite of SEO tools that includes keyword research, site audit, rank tracking, link building, and much more. One of the first SEO tools to hit the market, Moz Pro remains quite popular with businesses of all sizes.
However, some find Moz Pro to be prohibitively expensive, and many find its value—that is, what it offers in exchange for those high prices—to be less compelling than some of its competitors. While it does offer a free plan, that level provides access to limited features. Additionally, many users find the UI/UX (user interface/user experience) non-intuitive, with a steep learning curve.
These are just a few reasons why entrepreneurs might want to seek a different alternative to resolve their SEO challenges. In addition to tools offered by search engines, such as Google Search Console (a free tool that Google offers to help monitor site performance, indexing issues, and more), consider some of the Moz alternatives we've listed below.
1. Semrush
Semrush is a comprehensive suite of SEO tools that offers keyword research, competitor analysis, site audit, backlink analysis, and more. Like Moz, it will help you research and analyze keywords, including search volume, related keywords, and more.
Both sets of tools also help you choose keywords that are accessible and competitive, but SEMrush helps you assess how many links you'll have to build in order to rank for that specific keyphrase. While Moz offers ranking data for results from Google, Bing, and Yahoo! Search engines, SEMrush only provides Google data.
SEMrush may also provide more help in the field of social media analysis with SM content optimization, management, and performance analysis tools. It offers a free trial, plus a free version with limited functionality as well as three paid plans.
Click here to try Semrush for free for 14 days.
2. Ahrefs
A popular SEO tool, Ahrefs offers keyword research, site audit, competitor analysis, backlink analysis, and more. Ahrefs lets you audit your own site for top keywords and performance, backlinks and anchor text, overall domain performance, and competitive domains.
Many users find the Ahrefs interface to be more simply designed and intuitive to navigate and use. It also provides robust domain data, including estimated domain traffic with the ability to view changes to a site's performance over time.
Ahrefs will also show you keyword research data for ten search engines, not just Google. Like SEMrush, it lets you know how many backlinks you'll need to build in order to rank well for selected keywords. Websites can use a free Webmaster tool's version, or you can sign up for one of four paid plans.
3. Raven Tools
Raven Tools is a suite of SEO tools that includes site audit, keyword research, backlink analysis, rank tracking, and more. Users rank it especially highly for its keyword analysis and SERP (search engine results pages) rank tracking. Unlike some other alternatives on our list, it doesn't offer a free version, but it does provide a free full-feature trial for seven days.
As part of its suite of tools, Raven Tools gives you access to SEO audits, on-page SEO analysis, SERP analytics, and page speed data. In addition, you can find tools for keyword tracking, backlinks tracking, and paid ad tools. With five paid plan levels from $50 to $480 a month, you can find the package that suits your business site's needs.
4. Majestic SEO
Majestic SEO provides a backlink analysis tool that yields information on backlinks, anchor text, and referring domains. That's the primary difference between Majestic and Moz. Whereas the latter site aims to provide a fully featured suite of SEO tools, Majestic is aimed at a narrower slice of the market. It does backlink analysis very well, however, including analysis of top incoming backlinks, tools to help you build more incoming links, comparison tools for your competitors' domains, and other relevant metrics such as anchor texts and referring domains.
There are no free versions (and no free trial offers either, for that matter). Majestic SEO does offer three paid plans, which doesn't provide as much choice as other sites we've profiled here. However, if you're looking for help with your backlinks, it's definitely one to consider.
5. Screaming Frog
Screaming Frog SEO Spider is a site crawler that helps you identify technical SEO issues on your site. It manually analyzes each page on your site for broken links, duplicate content, missing title tags, and much more. You can also connect it with your Google Analytics account to get the most out of the data your GA account generates for you.
Unlike many of the other Moz alternatives here, which operate on an SaaS web-based model, Screaming Frog is a desktop program for both PCs and Macs. It offers a free version and a single paid version that costs about $260 for a license that must be renewed yearly.
6. BrightLocal
BrightLocal provides a targeted set of tools that help you manage your local business listings, monitor customer reviews, and track your local search rankings. It's a good choice if you're looking primarily for local SEO and reputation management tools, with access to local SEO and Google business profile audit reports.
BrightLocal offers a two-week free trial with access to all features, as well as three paid levels to its all-in-one suite of tools. In addition, you can pay-as-you-go for access solely to its Citation Builder tools, starting at $2 per website, including submission to hundreds of sites, removing duplicate listings, and repairing errors in existing listings.
7. SpyFu
SpyFu is a competitive analysis tool that provides insights into your competitors' SEO strategies, including their organic search rankings, paid search campaigns, and more. If you're mostly in search of tools for competitor analysis, rank tracking, and domain comparison functionality, SpyFu is a good alternative to Moz Pro.
SpyFu offers both a free trial and a free version, as well as three paid versions that let you run customized monthly reports.
The Bottom Line
If you need a comprehensive set of SEO tools but Moz Pro is a little out of your price range, or more than what you need, there are lots of Moz alternatives you can choose from. Consider exactly what SEO needs your site is currently experiencing before you choose an alternative SEO tool to try. For example, if competitor analysis is more important to you, look at Ahrefs or SpyFu. If you're more concerned about local SEO and SEM, consider BrightLocal.
Check for a trial period or a free plan in order to test out the interface and UX generally, since you'll want to pick an option that feels intuitive to use and that you can navigate with relative ease. Make sure the plan you're considering meets both your business needs and your budget. That's the best way to make sure you're using the right SEO tools for your business and website.
Published First on GRIT DAILY. Read Here.
Featured Image Credit: Photo by Oleksandr Pidvalnyi; Pexels; Thank you!