The Benefits of Bootstrapping: 6 Things You Need to do in Order to Succeed Without Investors – ReadWrite
Have you ever seen the show Shark Tank? If you haven't, it is a reality show that features various inventors and business owners pitching their businesses to a panel of entrepreneurs (sharks). The goal is to strike a deal that exchanges entrepreneurial funding for a percentage of the business.
Shark Tank is immensely popular, and when a plucky business owner strikes a deal with one of the sharks, the music swells and the audience is led to believe that this is the beginning of their success.
It makes me cringe.
I have been working as an entrepreneur in Los Angeles for more than twenty years. I have founded and sold a variety of businesses, and the companies I have developed currently exceeds $1.1 billion in valuations.
I have been fortunate to enjoy tremendous success, and in my experience, it is always better to grow a company without the interference of investors. Investment is not the way to launch your company into the stratosphere, despite what most people believe.
Once you accept funds from an investor, you are beholden to them.
Their ideas, desires, and financial considerations cannot be ignored. The moment you accept external funds, you relinquish control of your business. I firmly believe that start-ups will soon have more options for funding, but at the moment, I encourage entrepreneurs to chase success without the support of investors.
After all, bootstrapping is the American way. We need to stop seeing investment as the finish line and start seeing it as an albatross. If more people found ways to keep their start-ups independent, the creative minds that are responsible for these startups could retain control.
I have been starting and running businesses without investment for years, and I have developed a few key practices that have allowed me to avoid outside funding. Here are the six tips every business owner and entrepreneur needs to do in order to achieve success without external investment.
In recent years, businesses operating in the red have become trendy. Amazon famously spent more than they made for over a decade, but companies like Amazon are the exception, not the rule.
I see a lot of business owners overspend on office spaces, branding, marketing stunts, and corporate perks when they should be focused on creating a product or service that people will pay money for. Investor money tends to lull business owners into a false sense of security.
They think: Well I have all of this money, why not go on a golf weekend with my executives to inspire them? Instead, business owners should be using profits to inspire their executive team, not perks.
I see the generation of revenue as the turning point of a business.
Before your company actually starts making money, it is nothing but a foundation. Too many people get stuck on the foundation phase and forget to focus on the build of the actual house. They spend hundreds of thousands on a gorgeous website, rent a luxurious office space, and launch expensive marketing campaigns before ever selling a thing.
As a business owner, you are responsible for setting a profit-first culture. Get your executive leadership aligned on profit goals early, and reinforce them often. Remember that a company does not need a huge trade show installation, catered lunches, or celebrity endorsements to succeed.
All of those things can certainly help to grow a business, but the first stages of any company should consist of a strict strategy that focuses on bringing in more money than is spent.
If you are worried about this attitude creating dejection among your team, don't be.
People respond to the culture you set up for them. Instead of handing your team perks before they deliver results, offer them perks as a reward for results. Instead of treating your team to lunch every Friday, only treat them to lunch when revenue goals have been met.
So many business owners have this backward. Prioritizing profits is the only way to achieve financial success without relying on external investors.
When most people think of business owners and entrepreneurs, they think of the fun and flashy side of things. They picture Richard Branson and other rockstar entrepreneurs enjoying the spoils of their good ideas and creative leadership.
The reality is that any given snapshot of a business owner's life should see them pouring over spreadsheets, tracking every single dollar that their company spends.
This tip goes hand-in-hand with the first one on this list. Without a complete understanding of every expense your business is subject to, prioritizing profits becomes difficult if not impossible. Knowing your budget is absolutely vital. If you do not know how much you are spending, you cannot know how much you are making.
Nothing makes me crazier than when I see a budget presentation from a business owner who cannot speak to their entire spend. I like to ask these people things like: How much money does your company spend on coffee on a monthly basis? And What kind of per diem do you offer to employees who travel? How much travel do your employees do in any given month?
If they cannot tell me off the top of their heads what their current spend is, then I know that they do not fully understand their budget, and therefore cannot give me a confident answer about their profits.
Watch your dollars like a hawk!
If you want to grow a business without the interference of investors, then you need to watch your dollars like a hawk. When there is no stream of incoming investor money, it means that you are fully responsible for making and managing your own funds, and both your customers and your employees are relying on you to do it right.
There is no one to call for a bailout. You are the last line before bankruptcy, and you need to take that responsibility seriously.
Success is a game of inches. It does not happen overnight. You can obsess about your budget and prioritize profits all you want, but it is equally important to understand that money will not magically start rolling in. At the beginning of any business, the wins are small.
The goal should be to develop a steady stream of small wins that swell and grow into a massive over-all win. Every dollar of revenue, every sale, and every customer conversion should be celebrated since it contributes to a larger whole.
I said earlier that business owners set up a culture of profit prioritization. Similarly, they set up a culture of celebrating any and all wins so long as each win is understood to be in service of their profit prioritization.
Think of it this way, success on day one may be one customer conversion. Success on day 365 might be 200 customer conversions, but does that make a single customer conversion any less important? It does not, since your success on day 365 is actually made up of 200 small wins.
Incremental improvement is what success is.
It does not look the way most people expect it to since it happens gradually and over time. This fundamental misunderstanding of business success is why so many contestants on Shark Tank are thrilled when they get their investment. They think that a big sum of money equals success when in reality true and independent success happens gradually.
As a business owner, if you take a moment to celebrate each achievement as it comes in and reward your workforce for contributing to your bottom line, eventually your entire business will be a success.
Hard work is absolutely necessary for starting and running a successful business, but unnecessary work can mean the death of a small business.
When I was 13 years old I found work on a cattle farm at the California/Mexican border. It was grueling, dirty work (often in 115-degree heat), and I went home every day absolutely exhausted. One day, my boss approached me about a special project. He asked who I would like to select to help me. I chose the man who was the hardest working and most eager to help out. He never shied away from a task, and always did what was asked of him without complaint.
Shockingly, my boss told me that he believed the hard-working man to be the wrong choice, and gestured to a man who was literally sleeping in the dirt. He explained to me that lazy men were often creative thinkers, and pointed out several homespun inventions and pulley systems around the farm that made our job easier every day.
Up until that moment, I did not realize that the lazy man was actually responsible for these inventions. In his desire to avoid hard work, he had come up with creative solutions that made life easier for all of us.
Man hours are one of your most expensive resources.
That lesson has stuck with me ever since, and I have applied it to every company have I founded and run. Man hours are one of your most expensive resources. Do not waste time doing things manually when they can be automated. Always ask yourself and your team: Is there an easier way to do this? And always, always, always, choose the easier way. As a result, your team will be more efficient, your expenses will be lower, and everyone will come to work happy.
So many successful people claim that they have a "knack" for recognizing a good business opportunity, but the truth is that intuition is nothing more than years of experience at work.
When you are starting a business, you absolutely should not "go with your gut" because your perspective is limited. With every business I have ever started, I have built an airtight model that was designed to generate revenue, and I have lived and died by that model.
Throughout the course of business, people will come up with fun and flashy ideas. They will case study themselves and think: Well if I was the customer, this is what I would want to see. But the thing is, if an idea doesn't fit the model, it simply is not worth exploring.
Don't make guesses about your customers.
It is vital to put time and effort into understanding your consumer, build your strategy around that, and then put every new idea through that lens. Do not try to make guesses about what people may like or respond to. Perform tests, lean on what has already been successful, and never let someone's intuition be the reason behind a major decision.
Foster Strong Relationships
The people you choose to surround yourself with have a massive influence on your life. Your friends, spouse, and business partners will all impact the way you think, the way you make decisions, and how you feel about yourself. It is supremely important to be discerning about who you let have your ear.
By extension, who you choose to form relationships with is incredibly important to success. Hard work is not enough. Knowing the right person can open doors that you didn't even know were there.
I have found business partners, incredible team members, and tremendous exit opportunities through networking. I am ruthless about keeping my network tight and about only allowing in people with a positive influence, and in that way, I have fostered some fantastic and incredibly beneficial relationships.
Who do you know? Who knows you?
Hard work is only part of the equation. The other part is who you know and who knows you. If you only ever work with your head down, doors of opportunity will always remain closed.
When in Doubt, Don't Take the Money
An investor flashing a check is incredibly appealing, but remember that all money comes with strings attached. It is possible to found and manage a successful business without venture capitalist funds. I have done it.
The sharks on Shark Tank are referred to that way for a reason. They are not your friends. They will keep you lean, hungry, and constantly chasing their goals instead of your own.
Before you find yourself on ABC celebrating a new burden disguised as an opportunity — try these six tactics and see if you can't do it by yourself. You may be surprised by what you can accomplish.
Image Credit: karolina grabows; pexels
The Benefits of Standing Desks for Office Workers
Standing desks have become increasingly popular in recent years, and for good reason.
In this article, I'll discuss the benefits of standing desks for office workers.
The Dangers of Prolonged Sitting
Sitting for extended periods can be harmful to your health.
Prolonged sitting has been linked to various health problems, including obesity, cardiovascular disease, and type 2 diabetes.
It can also increase the risk of certain types of cancer, such as colon and endometrial cancer.
The Benefits of Standing Desks
Standing desks offer a range of benefits that can improve the health of office workers.
This is not to say that you have to stand the entire day — but forcing oneself to stand several times during the workday will significantly improve your health.
Improved posture
One of the most significant benefits of standing desks is that they can improve posture. Sitting for long periods can lead to slouching, which can cause neck and back pain.
By standing at a desk, you can maintain a more upright posture, which can reduce the risk of neck and back pain.
Tips for a Good Posture
Stand with your feet hip-width apart.
Ensure your feet are flat on the floor and your shoulders are relaxed.
Keep your head straight, eyes looking forward, and chin parallel to the floor.
Keep your arms loosely at your sides, with your elbows bent at 90 degrees.
Take regular breaks to move around, stretch, and relax your back, neck, and shoulders.
Increased energy levels
Standing desks can also increase energy levels, helping you to stay alert and focused throughout the day.
It's because standing desks can improve blood circulation, which helps to deliver more oxygen and nutrients to the brain.
Improves Mood
Standing desks can also improve mood, helping to reduce stress and increase feelings of well-being.
Having a good mood in the office can have a significant impact on the productivity and overall morale of the workplace.
A good mood has been linked to improved performance, higher levels of engagement, and even better physical health for office workers.
Increased Focus and Productivity
Standing desks have also been shown to increase focus and productivity. When we sit for long periods, our bodies tend to become sluggish, and our minds start to wander.
It can lead to a decrease in focus and productivity.
In contrast, standing desks keep us alert and focused, as they require us to maintain an upright position for a while — and maintain a constant state of movement.
Here are some tips to maximize your productivity while at a standing desk:
Listen to Music.
Take Breaks.
Use a Footrest.
Keep it Clean.
Reduced Risk of Health Problems
Another benefit of standing desks is the reduced risk of health problems. Sitting for long periods has been linked to a range of health problems, including obesity, heart disease, and diabetes.
By using a standing desk, office workers can reduce their risk of these problems and maintain a healthy weight.
Additionally, standing desks have been shown to reduce the risk of certain types of cancer, including colon cancer and breast cancer.
Promotes Weight Loss
Weight loss is a benefit (from bestdesksgeek dot com) of standing desks that often goes unnoticed. Standing desks offer a great way to burn extra calories while working.
Studies suggest that standing at a desk can burn up to 50-110 extra calories per hour compared to sitting. This can add up over time and contribute to weight loss.
Better Sleep
Finally, standing desks can also help improve the quality of sleep. Sitting for long periods has been linked to poor sleep quality, as it can cause discomfort and stress.
On the other hand, standing desks promote good posture and reduce stress, which can lead to better sleep quality.
Additionally, standing desks have been shown to reduce the risk of sleep disorders, such as sleep apnea.
Cost-Benefit Analysis of Implementing Standing Desks in the Workplace
While the benefits of standing desks are numerous, they do come with a cost.
Below is a cost-benefit analysis of standing desks:
Cost of Implementation
While the benefits of standing desks are numerous, they do come with a cost.
The cost of implementation can vary depending on the type of standing desk you choose and the number of employees you need to accommodate.
It's important to consider the cost of the desks themselves, as well as the cost of any necessary modifications to the work environment, such as electrical and plumbing upgrades.
Return on Investment (ROI)
Despite the upfront cost of implementing standing desks in the workplace, the return on investment can be substantial. Improved employee health, increased productivity, and reduced absenteeism can all lead to improved bottom-line performance.
How Incorrect Posture Can Lead To Health Issues While Using a Standing Desk?
If you work at a standing desk, it's important to be aware of the potential health risks associated with incorrect posture.
Poor posture can lead to several health issues, including musculoskeletal problems, headaches, and fatigue.
One of the most common problems associated with incorrect posture is a pain in the neck, shoulders, and back.
This is often caused by slouching or hunching over, which puts unnecessary strain on the spine. Poor posture can also lead to tension headaches and migraines.
Fatigue is another common problem caused by incorrect posture. When you stand for long periods, it's important to maintain good posture to avoid fatiguing your muscles.
If you slouch or hunch over, you'll likely start to feel tired more quickly.
Incorrect posture can also cause problems with circulation. When you stand, your blood flow should be directed downwards towards your feet.
However, if you slouch or hunch over, your blood flow can be restricted, leading to dizziness, lightheadedness, and even fainting.
FAQs
Are standing desks more comfortable than traditional seated desks?
Yes, standing desks are more comfortable than traditional seated desks. Standing desks offer several comfort benefits, including reduced risk of pressure injuries and improved focus and motivation.
How often should I use my standing desk?
It's also important to use your standing desk regularly to get the most benefit from it.
Is a mat necessary when using a standing desk?
No, a mat is not hundred percent necessary, but for standing for long periods — it provides a non-slip surface for added safety.
Conclusion
Standing desks offer a range of benefits for office workers, including improved posture, increased focus and productivity, reduced risk of health problems, increased energy levels, and better sleep quality.
With so many benefits, it is no wonder that standing desks are becoming a popular choice for office workers around the world.
In this article, I've discussed the benefits of standing desks for office workers.
What benefits have you seen from your standing desk? Let us know!
Featured Image Credit: Provided by the Author; Unsplash; Thank you!
What is a Divorce from Bed and Board?
If you are considering filing for a divorce from bed and board, it is important to understand what it entails. Commonly known as a "legal separation," this type of dissolution of a marriage involves much more than just the two parties not living together anymore; instead, it may include property division and child custody rights, among other things.
In some cases, obtaining a bed and board divorce can even be difficult to obtain in certain states due to the laws related to separations. Regardless of your motive behind wanting or needing one, knowing all that goes into such an arrangement can help you make informed decisions regarding your future.
Overview of divorce from bed and board
A divorce from bed and board is a type of divorce that involves two parties legally separating but never actually getting divorced. It's not uncommon for couples who want to pursue divorce proceedings to first consider this option, as it allows them to maintain the legal benefits of being married without having to endure the heartache and stress associated with an actual divorce.
What are the benefits of divorce from bed and board?
The main benefit of divorce from bed and board is that it allows couples to divide assets, establish custody rights, and make arrangements pertaining to support payments in a way that's agreeable to both parties. This means they can move on with their lives while still enjoying many of the benefits of marriage, including being able to file jointly for taxes and having access to health insurance.
Are there downsides to divorce from bed and board?
Though divorce, from bed and board, may seem like the perfect solution for some couples, it is important to understand that it can be difficult or even impossible to obtain in certain states due to the legal definition of divorce. Additionally, some couples may find themselves stuck in a limbo-like situation if they remain legally married but live separately.
Couples should also be aware that divorce from bed and board does not dissolve a marriage — meaning the two parties are still technically married and can't remarry without getting an actual divorce.
Filing for divorce from bed and board is a serious decision that should not be taken lightly. It's important to consult a lawyer experienced in family law before deciding if this option is right for you. With the right guidance, you can decide what's best for your situation and move forward with confidence.
What are the grounds for a divorce from bed and board?
In order to file for divorce from bed and board, you must have a valid reason, such as:
Adultery – Adultery is one of the most valid grounds for divorce from bed and board. It is voluntary sexual intercourse between two married people, one of whom is not the other's legal spouse. But in many states — the judges don't care either way.
Abandonment – Abandonment involves one spouse leaving the marital home without any intention to return or provide support for at least one year.
Cruelty – Cruelty can be defined as any physical or mental abuse suffered by either spouse.
Separation – Separation occurs when spouses have lived apart for at least a year due to disagreements or other factors.
Habitual Intemperance – Habitual intemperance is the excessive use of drugs or alcohol by one spouse.
Excessive Spending – This involves one spouse spending money in a way that is detrimental to the other spouse's financial interests.
Understanding divorce from bed and board can help you make an informed decision when considering your legal options. Before making any decisions, it's important to consult a lawyer to ensure this is the right choice for you. With the right guidance, you can move forward with confidence.
What are the consequences of a divorce from bed and board?
The consequences of divorce from bed and board depend on the agreement reached between the two parties. Additionally, they may have difficulty remarrying in the future without obtaining an actual divorce.
Overall, this type of divorce can be a viable option for couples who are looking to divorce but wish to maintain some of the benefits of marriage. It is important to understand all of the legal implications before making any decisions, so it's always best to consult an experienced family law attorney. With the right guidance, you can make informed decisions that are in your best interests.
How can a divorce attorney help you with this?
A divorce attorney can provide invaluable assistance, especially in cases where you're going through a divorce from bed and board (garrettandwalker dot com, same title). They will advise you on the best course of action and ensure that all legal requirements are met. They will also work with you to create a divorce agreement and represent your interests in court if needed.
With the right guidance, you can make informed decisions that are in your best interests. If this is the right option for you, a divorce lawyer can help you to understand all the legal aspects. With a divorce attorney by your side, you can move forward with confidence.
Conclusion
Divorce from bed and board is a viable option for couples who wish to divorce but remain married. It can provide some of the benefits of marriage without many disadvantages. Before making any decisions, it's important to understand all of the legal implications and consult an experienced lawyer. With the right legal guidance, you can make informed decisions that are in your best interests.
Inner Image Credit: Photos by cottonbro studio; Thank you!
Featured Image Credit:
The Top 7 AI Podcasts You Need To Hear Now
With artificial intelligence now being used to write everything from college homework to Congressional speeches, it's more important than ever to stay on top of the latest advances in machine learning, natural language processing, and all things AI. 
We've brought together a list of seven of the top podcasts that track and explain the newest developments. They look behind the scenes at the technology behind the platforms, and they discuss how artificial intelligence is already upending business, marketing, data analysis, and more.
The TWIML AI Podcast 
The TWIML AI Podcast used to be known as This Week in Machine Learning & Artificial Intelligence. The new name is shorter and snappier, but the content is just as deep and complex. Hosted by Sam Charrington, the podcast has produced more than 630 weekly episodes featuring interviews with a host of guests — usually technicians and scientists—working in the field of AI. The subjects of the discussions are often fairly complex. If you want to understand the human thinking behind artificial thinking, the show is essential listening.
 The Bad AI Show 
If interviews with Stanford professors aren't your thing, try the Bad AI Show. Hosted by Joel Comm and Travis Wright of the Bad Crypto Podcast. The pair take a fun, laidback approach to new technology, explaining clearly — and wittily — the latest developments in artificial intelligence and its practical effects. Think of the TWIML AI podcast as a Stanford lecture and the Bad AI Show as the lounge next door. It's a fun, relaxed chat with smart people about AI topics that get everyone thinking. The show is released as both an audio and video version.
The AI Podcast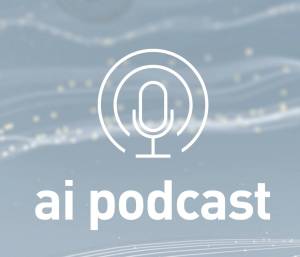 One of the biggest challenges that a discussion of AI generates is how the new technology will be applied in the real world. Noah Kravitz's The AI Podcast has already generated almost 200 answers. Each episode features an interview with experts using artificial intelligence to further their work. They've included a wildlife biologist tracking endangered rhinos, an astrophysicist analyzing starlight, and language learners grappling with Arabic pronunciation and even the delivery of sports highlights. 
Data Skeptic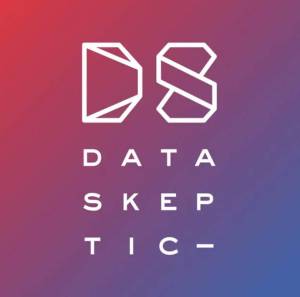 As you listen to those interviews with people applying AI to such a broad range of fields, it's worth asking about the effectiveness of AI in solving those problems and whether they couldn't be solved in an easier way. Claims for the benefits of artificial intelligence will grow, so make sure you're also listening to Kyle Polich's Data Skeptic. The podcast has already produced more than 470 episodes with interviews that take down the hype and take a realistic view of what AI can and can't do.
The AI in Business Podcast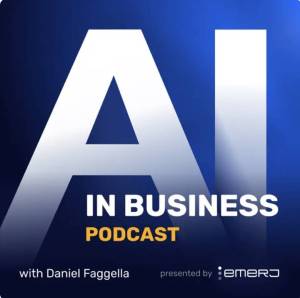 One area where both the hype and the expectation will be highest is in business applications of artificial intelligence. Each week, on the AI in Business Podcast, Daniel Faggella, the CEO of Emerj Artificial Intelligence Research, interviews AI executives from leading firms and startups to explore how business is adapting AI and exploring the opportunities the new technology offers.
The Marketing AI Show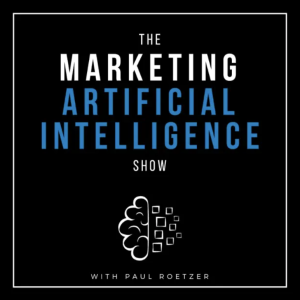 Business is a broad topic. The Marketing AI Show tries to narrow things down with a focus specifically on the way marketers are using artificial intelligence to improve sales. The podcast is created by the Marketing AI Institute and the Marketing AI Conference (MAICON), and it's essential listening for anyone wondering how the new technology can help their business identify leads and improve conversions.
Eye on AI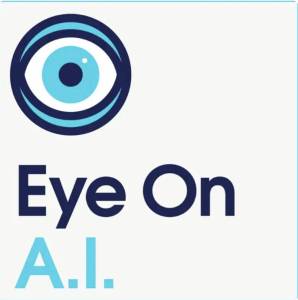 Finally, Eye on A.I. takes a broader, more journalistic approach to the developments of artificial intelligence. Out every two weeks and hosted by New York Times correspondent Craig S. Smith, each episode features an interview with a leader pushing AI into new ground. Episodes have discussed AI in supply chain optimization and finance but they've also delved behind the scenes to look at issues surrounding privacy and the future of AI itself.
Featured Image Credit: Photo by Jean Balzan; Pexels; Thank you!